HüseyinÖzkal Özsoy
Living in : FATİH / ISTANBUL / TURKEY
Personal Information:
Nationality: T.C.
Marital Status: Single
Work Experience:
2010 – …..  Mimar Sinan University of Fine Arts
Assistant Proffessor, Industrial Design Department
2009 – 2010 Haliç University
Assistant Proffessor, Industrial Design Department
2008 – 2009 Enlite Solar Lighting
Solar Product designer
2007- Yönbil A.Ş.
Working as a design engineer and industrial designer, I'm responsible of the design of yonbil's fleet tracking system case and its mounting accesories. I'm also giving support to the electronics design team in the design of several circuitry and the PCB. I've worked on mp3 player and SD card reader firmware of the product and the user interface design and implementation.
2006-2006 Canensol Alternative Energies
Worked as the head of R/D department. The company was designing SOLAR powered lighting systems and industrial products for solar ligthing. Designed several solar charge controllers and microprocessor based LED drivers.
2005-2005 Vestel Defence Industries
Worked as a design engineer for designing and building the national war-ship of Turkey in the project GENESIS. Did the anthropomethrical measurement research and then the electromechanical design of the war control console as well as emergency control console.
1993-2003 K o n t e l A.Ş. Istanbul
Product designer,  Product circuit designer, Products' human-machine interface designer,
Embedded microcontrollers programmer, Designed more than 100 different industrial products, built their prototype models, written their programs in assembly language or C++, did all testing etc. and later assisted & controlled their production in the following years. PCB & system designs for many control cards for various industrial applications on measurement and control. Many kinds and variations of panel type measurement
devices; Ampermeters, Voltmeters, Tachometers, Thermometers, Frequencymeters etc.
Brochures, handbooks, documents for all these devices, Fair stand designs, Firm website design
1993-1993 Tolkun Elektronik Istanbul
Worked as researcher-engineer
1987 Eltek A.Ş. Istanbul
Honeywell-Bull information Systems
Student Apprentice
1986 Bilkom A.Ş. Istanbul
Apple Computer Inc. Turkey Representative
Student Apprentice
Microcontrollers Used:
SGS Thompson's ST-6210, 6220, 6225 for nearly 10 years.
Microchip PIC 12f675, 16F84, 16F628, 16F870, 16F877, 18f458 with CCS compiler and ASM
Motorola 68HC908MR16
NXP LPC2468 on Keil IDE
Education:
2003-2009 Mimar Sinan University,
Industrial Design Department
Ph.D. (thesis, "functional metaphors in industrial product design")
1996-2000 Mimar Sinan University,
Industrial Design Department M.Sc.
Graduation Thesis – Research with a survey: "The role of
industrial design on quality, market share etc. factors in
small and middle sized companies of the electronics
industry of Turkey."
1995-1996 Mimar Sinan University,
Industrial Design Department, prep. class for electronic
engineering –> industrial designer formation change course for 1 year.
1994-1996 Boğaziçi University,
Electrical-Electronical Engineering Department, M.Sc.
Graduation Thesis – Applied: "Design and construction of a
multi processor mobile robot platform with ultrasonic
obstacle detection for developing navigation algorithms."
1988-1993 Istanbul Technical University,
Electronics & Communications Engineering Department, B.Sc.
Graduation Thesis – Applied: "A remote control system
based upon data transfer via the standard two wire medium
of the Turkish telecom, telephone system."
1983-1988 Istanbul Maçka Anatolian Technical High
School, Computer Department.
Graduation Thesis – Applied: "Construction of a Hi-Fi sound amplifier system"
Languages:
English (Fluent)
Turkish (Native)
Computer Experience:
I'm quite good at using computers
I use them as a versatile tool for design.
I use the programs below in expert level.
Adobe Photoshop,
Adobe Imageready,
Rhinoceros 3D,
Electronics Design:
Proteus ISIS and ARES
CCS C compiler for PIC microcontrollers
Web Related:
I've built several websites which use content management systems like phpnuke.
So I've moderate experience on dynamic HTML scripts, java scripts, PHP language,
Mysql databases , Apache web server, Various FTP programs,
Groups and Organizations
founded by Özkal Özsoy:
Robotics:
Hobby robot builders' group and mail list.  mail group with more than 600 members
website with more than 18.000 members  http://www.endtas.com/robot
Boatbuilding:
Amateur boatbuilding group. mailing group which has got more
than 700 members and two websites with more than 30.000 members around the globe.
http://www.endtas.com/main
Özkal Özsoy has also a private online boatbuilding album at
http://boat.endtas.com
Hobbies: Cycling, Long cycling trips in the nature, camping, living in
nature, Latin dancing, backpacking, diving, swimming, running, Amateur boat building, Sailing, model making, Amateur robot building, forming infosharing websites and mail groups, researching the net for new hobbies and info. 3D design, boat design.
Prizes Won: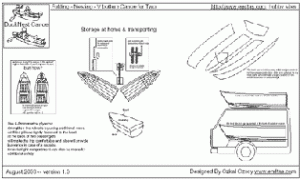 Winner of 2003 amateur boat design contest of duckworksmagazine USA.
3rd runner up in automotive project market design contest / Turkey in Mechanics & Functionality cathegory.